Regular price
$119.99 USD
Regular price
$220.00 USD
Sale price
$119.99 USD
Unit price
per
Sale
Sold out
Elevate your trading skills, transform your workspace, and stay ahead of the game with our comprehensive Trader's Bundle. This three-in-one package includes the Trader's Premium Desk Mat, a 2024 Trader's Desk Calendar and Trader Spiral Journal with Inside Prints.
As seen on
Upgrade your trading setup with our top-tier cushioned desk mat. This premium mat not only offers a comfortable surface for your wrists during long trading sessions but also reduces noise, allowing you to work with laser-like focus. Crafted with traders in mind, it features essential strategies and chart patterns for quick reference.
Sized at 31" × 15.5", this desk mat comes in three variations:
General Trader Desk Mat: Featuring candlestick patterns, chart patterns, candlestick anatomy, types of charts.
Options Trader Desk Mat: Highlighting candlestick patterns, chart patterns, options Greeks, options strategies.
Forex Trader Desk Mat: Focusing on candlestick patterns, chart patterns, major currency pairs, and forex information.
Limited Edition Desk Mat: Combining both Options trading and Forex trading (without keyboard shortcuts).
This multifunctional desk mat is made of 4mm thick neoprene material with an anti-slip backing, ensuring stability while you work. It boasts vibrant colors and hemmed edges for durability.
The first million is always and only the hardest part of any successful entrepreneur and trader, doesn't matter how you make a million dollars, after that first one, the magical mathematics of percentages work the same exact way they work with smaller numbers.

Printed inside covers include candlestick patterns on the inside of the front cover, chart patterns on the inside of the back cover. This way you have quick reference wherever you go.
Product features:
Front, back and inside cover print
150 lined pages (75 sheets)
Glossy laminated cover
Exact dimensions 5.12" x 6.97"
Metal spiral: Easily removable pages
Glossy laminated cover: Gives the cover a smooth look and durability
90gsm lined paper: Perfect for writing 
Stay on top of your trading game with the Exclusive Trader's Desk Calendar 2024. This calendar features all essential dates such as holidays, market close dates, triple witching Fridays, FOMC meeting dates, and many more. It's designed to bring a lively tone to any trader's workspace, adding both style and functionality. One size: 10" x 5" (25cm x 12.5cm), this desk calendar is the perfect companion for traders who want to stay organized and informed throughout the year.
With the Trader's Premium Desk Mar Bundle, you'll save up 40% In value and will have the tools, knowledge, and essential dates at your fingertips to excel in the world of trading. Don't miss this opportunity to become the trading pro everyone admires. Order now and elevate your trading game!
Share
View full details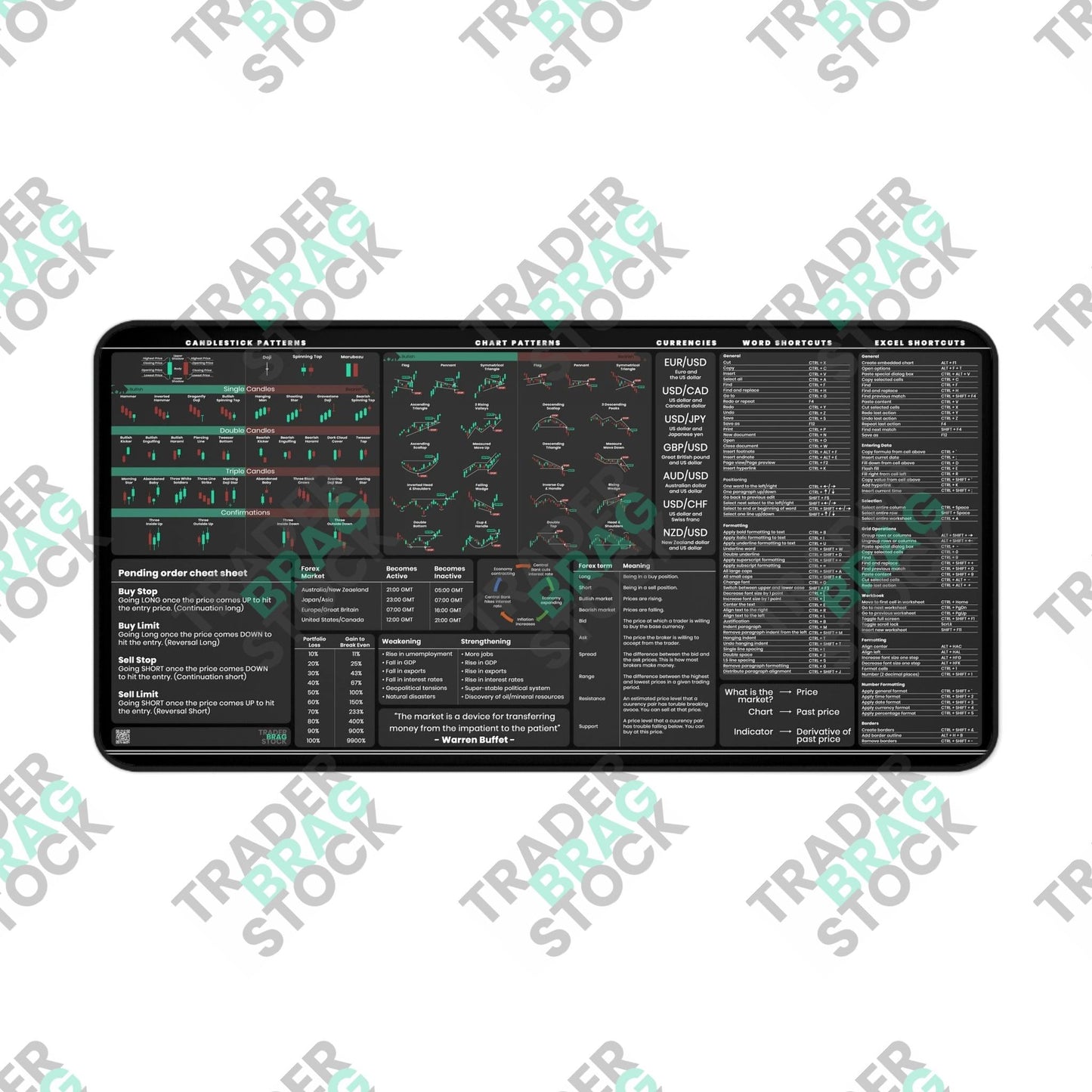 Found a better price? Let us know!